Business Partnerships:
Synergy in Action
We are a Microsoft Partner and Certified Vendor specializing in Cross Source Business Intelligence in the Finance and Human Resources. We scale our solution from a few thousand records and a few users to 400 million records and 500 users. Our core competencies lie in the SQL Server Stack (SQL Server, Analysis Services OLAP, PowerBI and Excel) running on both On-Premise and Cloud based solutions.
We are looking to collaborate with Partners that would like to expand their services to their existing customers or offer their specialty to our customers. We value our customers and partners and want them both to succeed. We want to work with partners who share our values.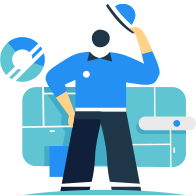 Proof of Concept Engagement
Discounted Implementation
Discounted Service Plan
Referral Bonus Plan